Virtual Conference Overview & Highlights
The International Conference on Metallurgical Coatings and Thin Films (ICMCTF 2021) will be adapted into a Virtual Conference comprised of Live and On Demand Sessions. The registration deadline is April 30, 2021; all presenters must register by March 1, 2021. The event will feature:
Live Daily Sessions Monday – Thursday (2) and Friday (1)
Live Plenary, Exhibitor Keynote, Special Interest, Student Award Finalists and Invited Talks—all with live Q&A Chat opportunities
Live Friday Award Session with Sproul and Bunshah Honorary Lectures, live announcement of Student Awards, and Q&A opportunities
Live Moderated Post Session Invited Speaker Special Sessions Allowing for Informal Discussion and Networking
On Demand Oral Sessions
On Demand Poster Sessions with a Mix of Pre-recorded (Video or Audio) Talks and/or PDF files
Live and On Demand Sessions available on mobile app/desktop planner through June 30, 2021 and then to AVS members in the AVS Technical Library
Note: Live Sessions will also be recorded and added to the On Demand Sessions.
The ICMCTF 2021 Virtual Conference will kick off on Monday, April 26, 2021, with the Plenary Lecture, followed by two parallel sessions of invited talks. Each morning's Live Sessions will follow this pattern, kicking off with a keynote talk from 10:00 – 11:00 am ET followed by two parallel sessions of invited talks, being capped off by our Awards Session on Friday, April 30, 2021.
All Registered/Paid attendees will also be able to participate in the Monday, April 26–Friday, April 30 Technical & Poster Sessions. The live sessions will feature plenary, invited and honorary lectures.  After each day's live sessions, we invite attendees to view the pre-recorded Technical & Poster Sessions On Demand. Posters will be a mix of pre-recorded (video or audio) talks and/or PDF files.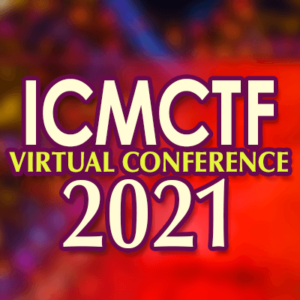 Virtual Conference Quick Links
Virtual Conference Schedule Overview